Important Note: Starting from version 6, "Right PDF" becomes the official name in place of "Gaaiho".
If you have purchased Right PDF/ Gaaiho PDF license under a registered account, it will be registered to that account automatically after online payment is accepted. You can also manually bind license to your account:

1. Sign in our official website. If you don't have an account, you can create one for free
2. From the drop-down menu select "Bind serial number"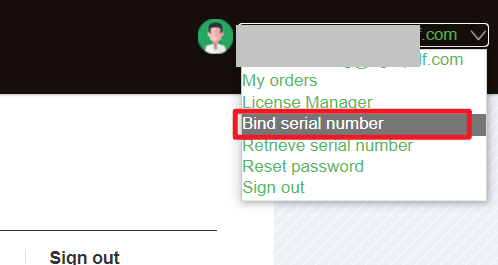 3. You need to enter the SN (received in the confirmation email or printed in the box) and e-mail (purchasing e-mail). Click "Bind Now"
(Note: If the product is bought from one of our agents, you must input the same e-mail address as written on the the order form)
4. After binding, your license info will be displayed in "License Manager". Here are some advantages of registering a product: