Issue
All of a sudden an error occurs and your conversion stops. A text file then shows up and tells you "Valid license not found" while your license status is perfectly normal.
Right PDF: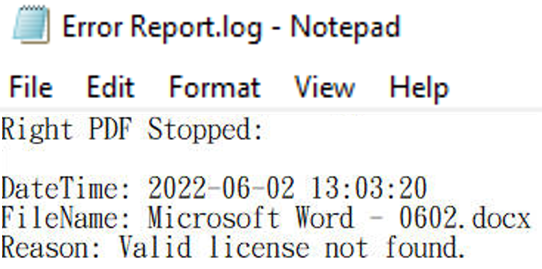 Gaaiho PDF: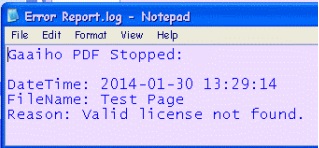 Description
There are three possible reasons.
I converted a file while my license was deactivated. Although I activated my license afterwards, the error message kept appearing.
License File Missing: A vital "License File" might have been deleted by accident.
"Spooler" Alert: A service named "spooler" does not restart after activation, causing failure to reload printer files
Solution:
Since it's difficult to tell the exact cause from the error message, please send the log file to support@rightpdf.com or raise a new ticket with log file attached. The log file is accessible by clicking the "View log" button in "License Information" dialog box (Start > All Programs > Right PDF Pro/Converter (Gaaiho > Gaaiho PDF Suite/Converter) > License Information). Still, you may try solution no. 1 and 2 and see if it works in order to save time.
Reboot your computer: this solves majority of the cases!
License File Missing: please re-install the product and then reboot
"Spooler" Alert: after our support agent confirms it's a spooler issue, you can follow the procedure below.
A. Uninstall the product
B. Go to "Run" and input "net stop spooler", then press enter to temporarily stop the service
C. Delete two files "znprnui.dll" and "znprngraf.dll" under "

[SystemRoot]:\WINDOWS\system32\spool\drivers\w32x86\3

(32-bit OS)

" or

[SystemRoot]:\WINDOWS\system32\spool\drivers\x64\3

(64-bit OS)"
D. Go to "Run" and input "net start spooler," then press enter to restart the service


E. Install the product
Feel free to ask any questions if you encounter any unexpected issue along the way. Either raising a support ticket or sending e-mail to support@rightpdf.com will be fine :)