With more and more professionals working remotely on mobile devices, it is easy to forget that such convenience comes with a price. Cyber-criminals are out there somewhere, looking to take your information away and wreak havoc. Thus, it makes senses that most businesses place great importance on information security, which also includes the protection of critical data stored in electronic documents. For those who turn a deaf ear to safeguarding confidential materials, serious consequences might likely await you around the corner.
Nevertheless, when it comes to documents that have to go outside of your firewalls, enterprises need a different kind of security strategy – one that travels with documents until they reach the intended recipients. PDF, as the world's chosen format, is the must-have solution to potential information leaks.
ZEON, an established PDF solution developer, provides you with advanced tools to protect confidential documents over their lifecycle and secure PDF documents by inspecting document, marking redaction, signing/certifying, and applying encryption.
Secure information with PDF
Security implementations range from relatively simple measures to sophisticated systems adopted by corporations and power users. PDF provides the following three security settings to help you stay away from security breach:
Inspect Document/ Mark Redaction:
- Inspect Document: permanently remove visible or hidden information from the document.
- Mark Redaction: select contents and permanently remove them from the document
Sign/Certify: Other than signing and verifying signatures, you can also compare signed version to current version to ensure no changes have been made to the document.
Encryption settings: set passwords and permissions to restrict unauthorized printing, editing, copying or saving.

Right PDF Pro provides the following 6 security features:
Redaction Tool: search and redact sensitive information and permanently remove selected content from documents.
Inspect Document: remove Bookmarks, Comments, Links, Document Attachments and/or other hidden data that may contain sensitive information from document, such as Metadata and Embedded non-display data.
Sign/Certify:
- Sign a document with a digital ID.


- Certify a document and specify what actions are allowed to be made to it.




- Timestamp a document.




- Verify a signature by comparing signed version to the current one to ensure document integrity.
Encryption:
- Right PDF Pro supports 256-bit AES.


- Specify encryption strength and select document components to encrypt.




- Set permissions password to restrict printing, editing, and/or copying.




- Set open password to protect document from unauthorized access.




- Manage trusted identities to determine who can open and edit the secured PDF file.
Secure delivery: sign and encrypt files to secure documents sent via e-mail.

Microsoft Azure Information Protection(AIP)

: Right PDF Pro supports

Microsoft's Azure Information Protection (AIP)

, which

offers a method to protect important documents with security policies. As administrator, you can set up permissions for other Microsoft accounts, and only authorized accounts can access protected documents.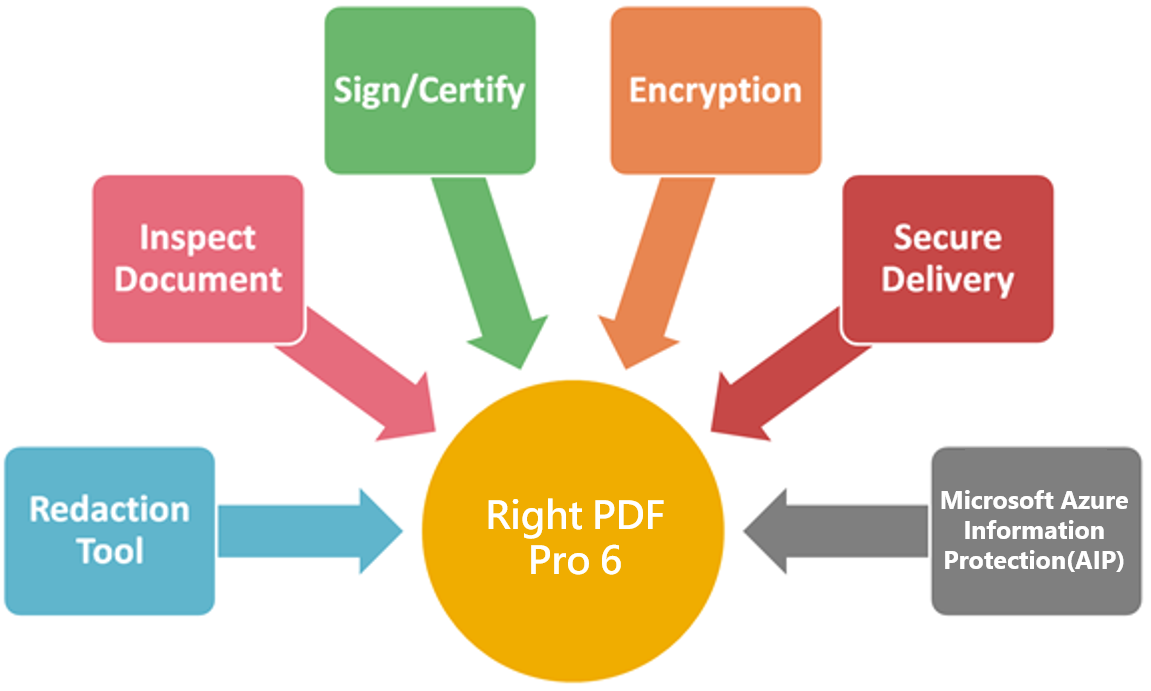 For more information, please visit www.rightpdf.com or contact sales@rightpdf.com