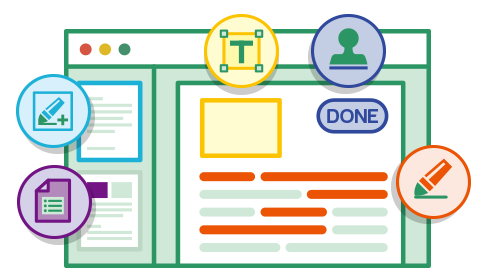 The benefits of PDF comments have already been promoted for a long while and it's been a success as everyone knows how to use commenting tools to annotate documents. Regardless of your rank or position in an organization, commenting is the work you can hardly avoid doing as you know valuable things are always worth reviewing. If you want to have a conversation with others who are about to review the documents you are working on, leave comments directly in files to ask questions, make notes, or highlight changes you have made.
While comments are perfectly readable within Right PDF, here comes a question when you are requested to hand in the hardcopy of the document: how am I going to print out the document along with all the comments? (Your boss is always a fan of hardcopy, not eco-friendly whatsoever.)
Let's see how Right PDF helps you organize comments and make them visible on the hardcopy by using the Create Comment Summary feature.
Option 1:
Directly choose File > Print to open the Print dialog box, in which you can specify contents to print and further configure print settings. From the Print Content drop-down menu, you can choose to print the document only, form fields only or the document along with comments. This option, however, doesn't allow you to choose a display layout for comment appearance.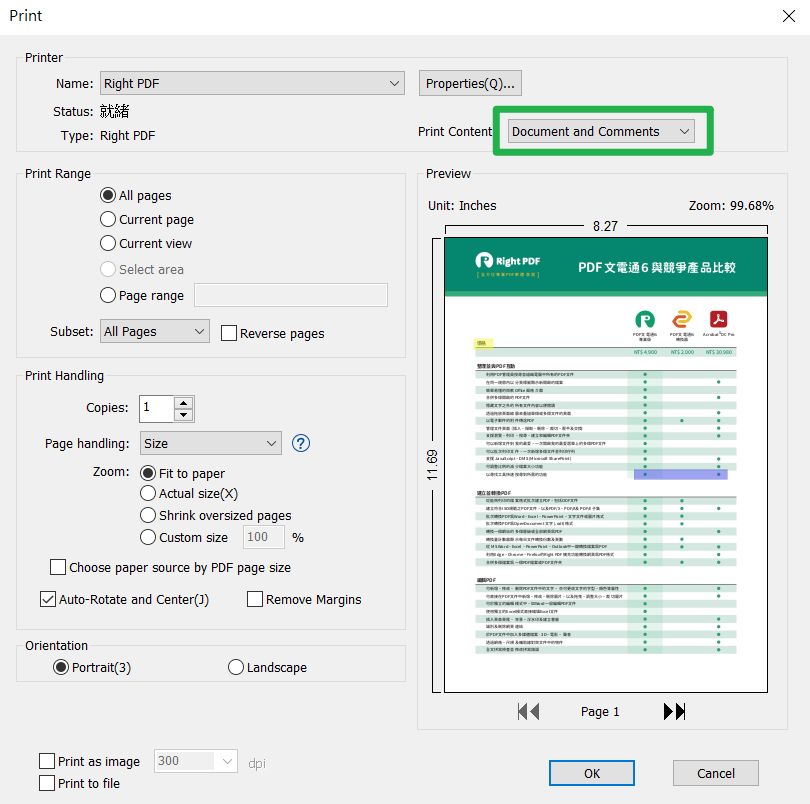 Select Document and Comments to print document content along with all comments.
Option 2:
Create Comment Summary, the feature that generates a synopsis of all the comments associated with a PDF, is better than option 1 in that it provides four different layout options of how comments are going to be displayed in the output summary. When summarizing comments, you can choose to either create a PDF with comments displayed in the layout you specified, or directly print out the summary. Check out the following to see how it works!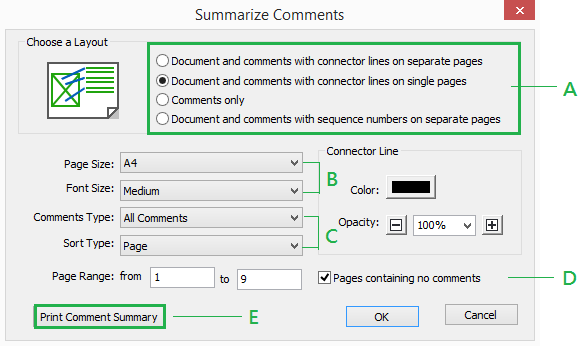 Open a PDF file with comments and choose Comment > Comment Processing > Create Comment Summary.
In the Summarize Comments dialog box, choose a display layout (A) and do the following:
Choose a desired page and font size (B).
Specify whether to include all comments in the summary or just the comments currently shown in the Comment panel, and the way to sort the comments (C).
Specify a page range and decide whether to include pages with no comments into the output comment summary (D).
Click OK to create a PDF with comments that you can print. Or, click Print Comment Summary (E) to directly print out the comment summary.
Four layout options
In the Choose a Layout section of the Summarize Comments dialog box, you can see there are four different display layout options that Create Comment Summary offers to suit your needs. You can choose to have both document contents and comments displayed in the output summary or just comments only. If you want both, choose to connect comments and the document with connector lines (on separate/single pages) or with numbers. If you choose to connect the document and comments with connector lines (the first two options), specify the connector line color and opacity.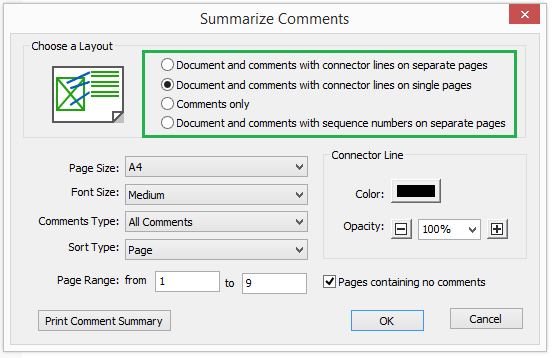 Page layout options for comment summary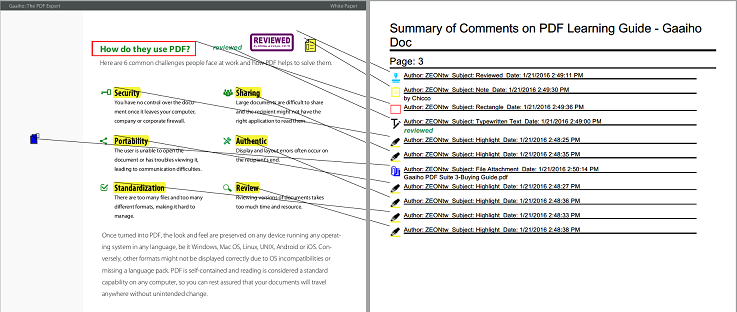 A. Document and comments with connector lines on separate pages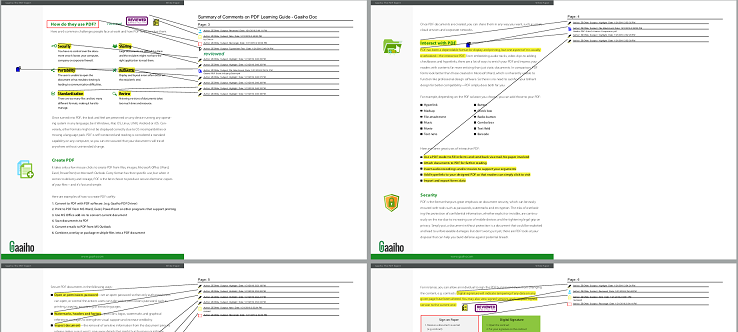 B. Document and comments with connector lines on single page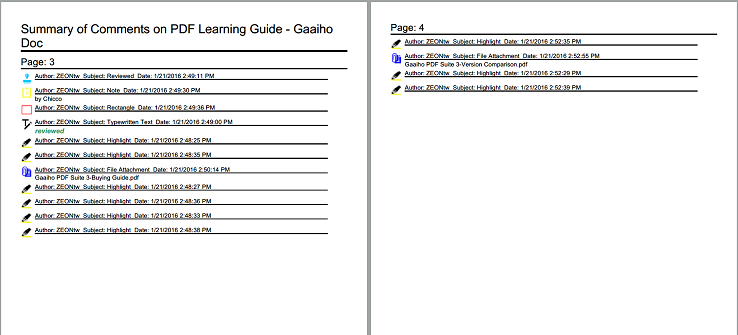 C. Comments only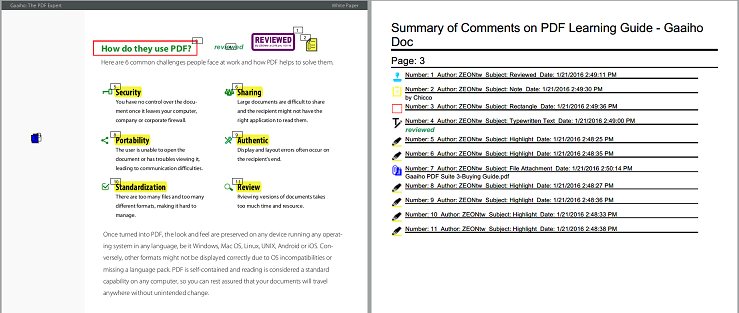 D. Document and comments with sequence numbers on separate pages
For more information, see: